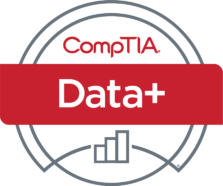 Data+ Info for Organizations
We understand the growing need for deeper skills than data literacy in teams across an organization.  It's not just one person or a team of people who use these skills – you may be surprised how much your team needs the same knowledge as the data analysis team. 
"People don't realize they are data analysts."
Robin E Hunt
ThinkData Course Offerings
We have developed instructor led training for Data+ to suit any organization and their requirements. If you want to test the waters with your organization on the skills covered in Data + then you will enjoy our exclusive one day approach. This led directly by the the author of the Official Data+ Content. If you need a little deeper into a couple domains for your team, then a two day focus session is just what's in order. If you want an extensive training offering then we have you covered with our bootcamp sessions. 
Imagine a team that has skills covered in CompTIA's Data+
They will learn about ways to gain and ask for data in an organization. They will gain skills in writing calculations, logical functions and more about aggregate data and cleaning. They will learn how data is queried, and learn how to join data, query and clean data. They will learn valuable approaches to data that will aid in how they verify the results, and know when things are "off." They will learn about best ways to visualize data, analyze data, and then report on data. Not to mention important policies to consider and data security and privacy knowledge. These skills are incredibly valuable. Read More On Skills.
How do we know if Data+ is right for our team?
From our experience a lot of teams are deep into spreadsheets, csv or exporting data they need. The team or person will build what's necessary, but often the hard way. Your team can learn a ton by venturing into the skills and knowledge of Data+. We will work with you to craft just what your team needs, and if certifications are something of interest, then it's a win-win scenario for your team.
What if we don't care about certifications for our team?
Although we think there is signifigant value in pursuing data certifications we know that for some teams - it just doesn't matter. Whether you have your team pursue certification or not is entirely up to you. We do know there is value in just the training alone. CompTIA is a trusted resource for certifications across many technical domains. Learn More About Certs.
We train your team on the skills in each domain based on their needs. Imagine the impact to an organization to really narrow down the definition of a data analyst and what an analyst's capabilities should be implemented for a department. 
Watch as Robin E Hunt and Teresa Sears, CompTIA discuss Data + Certification and the importance of a certification and the impact of training these skills.