Request CompTIA Data+ Corporate Training Options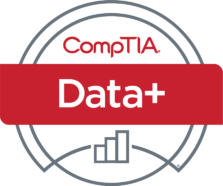 Data+ Info for Organizations
There is a growing need for deeper skills than basic data literacy across organizations and it's not just limited to a single person or department within the company. Even if your team isn't the "data analysis" team, you may be surprised how much your team needs data knowledge.
"People don't realize they are data analysts."
Robin E Hunt
ThinkData Course Offerings
We have developed instructor-led courses for CompTIA Data+ to suit any organization's requirements. Our One Day Preview training of CompTIA Data+ is designed as an accelerated start to preparing for this certification and offers practical knowledge that can be applied to your team's real-world work in data. If you need a deeper dive into specific domains in this certification, we offer 2-day focus sessions. We also instruct corporate bootcamps that are comprehensive and cover all domains assessed by this certification.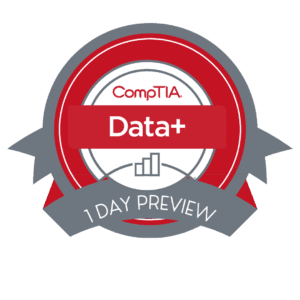 Topics highlighted during course: Identify Basic Concepts of Data Schemas Understand Different Data Systems Understand Types and Characteristics of Data Compare and Contrast Different Data Structures, Formats, and Markup Languages Explain Data Integration and Collection ...
|
Imagine a team that has skills covered in CompTIA's Data+
They will learn about ways to gain and ask for data in an organization. They will gain skills in writing calculations, in logical functions, and in aggregating data. They will learn how data is queried and learn how to join and clean data. They will learn valuable approaches to data that will aid in how they verify the results, and know when things are "off." They will learn about best ways to visualize data, analyze data, and then report on data. They'll also learn important policies to consider and data security and privacy knowledge. These skills are incredibly valuable. Read More On Skills.
What you'll learn The Official CompTIA Data+ Instructor and Student Guides (DA0-001) have been developed by CompTIA for the CompTIA Data+ candidate. Rigorously evaluated to validate coverage of the CompTIA Data+ (DA0-001) exam objectives, the ...
Read More

→
The Data+ Study Guide eBook  The Official CompTIA Data+ Study Guide (DA0-001) has been developed by CompTIA for the CompTIA certification candidate. Rigorously evaluated to validate coverage of the CompTIA Data+ (DA0-001) exam objectives, the ...
Read More

→
How do we know if Data+ is right for our team?
From our experience a lot of teams are deep into spreadsheets, .csv files, or exporting data they need. The team or person will build what's necessary, but often the hard way. Your team can learn a ton by venturing into the skills and knowledge of Data+. We will work with you to craft just what your team needs, and if certifications are something of interest, then it's a win-win scenario for your team.
What if we don't care about certifications for our team?
Although we think there is signifigant value in pursuing data certifications we know that for some teams - it just doesn't matter. Whether you have your team pursue certification or not is entirely up to you. We do know there is value in just the training alone. CompTIA is a trusted resource for certifications across many technical domains. Learn More About Certs.
What kind of sessions for Data+ do you offer teams?
We train your team on the skills in each domain based on their needs. Imagine the impact to an organization to really narrow down the definition of a data analyst and what an analyst's capabilities should be implemented for a department. You can curate your own one day preview, two day focus session, or bootcamp. We can craft it just about anyway you can imagine. From start to finish you work with you to determine the content that is most relevant for your group. We find that times that has the lowest impact to your day to day operations. We deliver a custom crafted session that suits your needs perfectly while allowing us to delivery a quality service offering. 
The short answer is yes. Each offering will be designed to teach a group of selected content designed around skills and competencies you deem necessary for your team. If you are unsure, we can talk you through it so you can make an informed decision about what makes sense for your team.
One Day Preview
This is one day of training with selected topics for hands on exercises. The day includes covering high level detail of every lesson, but can be adjusted to your needs. 
For example, in our public offering, we cover all of the content briefly. We have three or four hands on exercises that work with the data mining portion of the course. 
If your team wanted more time on viz, then we would craft the three to four hands on exercises in that section of content. 
Two Day Focus Session
The is two days of training dedicated to the lessons that are the most relevant to your team. This gives us time to really dig into the topics, work with lots of hands on and practical data project scenarios.  
For example, your team needs data mining and also needs visualization. We would pick areas of focus from the coursework, and deliver that experience to your team. 
Bootcamp
This can really be any style delivery you can make up to deliver "your bootcamp."
For example, this could be 3 weeks of 2 lunch sessions per week focused on a single topic each week. 
This style lets you pick content and time frames that work best for your team to do ongoing training that builds skills. 
Onsite Experience
Do you want your training to be at your location? We understand, that's where we do most of our training. Your organization has invested in your room - let's use it.
Virtual Experience
Is your team remote or just located everywhere? Don't worry! We've perfected the craft of training virtually in an interactive and engaging way. 
Hybrid Experience
Need an in person and virtual experience? We've got you covered with our hybrid training. This is great when your team may or may not be working from the same office. You can have a mix of both the in-person and virtual experiences.
Video Experience
You need your content to be recorded and delivered to a lot of people - we get it. We're even pretty good at it!
Engagement Specialist
Training requires logistics. We will work with you on our engagement so we know as a team we are crafting a great experience and that logistics plays a role in that experience. Your engagement specialist works with you through the start up of the training until the engagement is over. 
Discuss and Review Skills Outlines
We have skills outlines for the software and soft skills we teach. We approach each engagement by sharing the relevant outlines with your team. We ask that your team review and let's address questions, suggestions, additions, subtractions.
Determine Performance Time
Work with you to determine performance time which is the amount of time our expert is training. You can expect to hear 2 hours, half day and full day when we talk.
Discuss Audience Size
We always discuss the size of the audience because depending on size we can suggest what style sessions make sense like hands on or seminar style. 
Decide Engagement Support
If you need more than just a little support coordinating the logistics we can discuss what the need is; and then provide it. Some engagements need this deeper level of support, so do not. 
Provide Expert Training Staff
We provide a subject matter expert that suits the skills requirements needed for the session, who just so happens to also be a person who enjoys training people on these skills. 
We use the skills we teach. You can read more about development.  We know that we can teach people how to solve problems with data because we do exactly that. 
We have been creating our own training engagements using crafted skills training as a core offering of ThinkData Solutions, Inc since 2011.
We work with the best training creation teams in the world. Watching world class teams take your content and provide it to others is very rewarding. We have learned so much through our relationship with LinkedIn Learning and CompTIA. We hope consider our training as well. 
Since we teach data, to be fair when your team needs what we do; and we show them what we know and how to get started - then it is then truly magic.
We are flexible enough to support your training efforts in different ways.
Watch as Robin E Hunt and Teresa Sears of CompTIA discuss Data + Certification and the importance of a certification and the impact of training these skills.