Are you tired of spending valuable time hopping from one spreadsheet to another in search of the data you need for your reports? It can be frustrating and inefficient, causing unnecessary delays and potential errors. But what if there was a better way? What if you could update your data in one central place and have it automatically reflected everywhere it's used? Imagine the time and effort you would save. Well, you're in luck because our course is specifically designed to address these pain points and revolutionize your data management workflow.
Yes, they are recommended only, and nothing is required for this course.
We will say that for some it will enhance the experience to explore some of the recommendations before your session.
The benefit to you is that it will confirm you have the general understanding to get the most of this course.
Recommendations
You need to know at least generally about Power Query and what it is about. You don't need to know a lot about it, but you should know what it is and how to access it.
This course really breaks down into the three major categories.
Understanding the more advanced data transformation features in Power Query
Understanding how to work with the Advanced Editor
Understanding how to automate routine data cleaning and modeling tasks
This course is designed for the rising Excel user who is comfortable with the basics and looking for more. It's also good for experienced users who have heard about what Power Query can do and want to know how to make use of it in their own work.
We focus on Microsoft Excel in this course, specifically Microsoft Excel 2016 or later (earlier versions do not include Power Query).
If you have more questions on this, please contact us. 
This course explores Power Query techniques to help master your data management needs. You'll learn skills like duplicating and referencing data sets, using advanced Group By statements, and merging multiple queries. We'll also show you how to connect your data to Pivot Tables for easy, up-to-date analysis.
Upcoming Courses
Explore This Course
Dive deep into Power Query in this practical course. Learn real-world uses for automating your data manipulation processes and start saving yourself time today. Have more than one file to work with? Let us teach you how to combine them in a way that saves you time and energy while improving your data analysis skills at the same time. This course is perfect for anyone who wants to get more out of Power Query.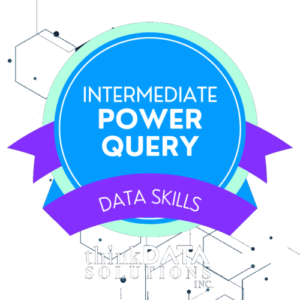 What You Will Learn In This Course Duplicate and reference data sets Duplicate data set Reference data set Load multiple data sets to the workbook Sort data in Power Query Single level sort Multiple sort ...